The Quality Control Laboratory (QCL) of ARL is the first laboratory in the oil-refining sector of the country to achieve the coveted ISO 9002 accreditation. This land mark achievement was accomplished in May 1999 through completely indigenous efforts of our highly professional
QCL team. However, ISO 9002 certification is but only a small step towards our commitment to provide analytical services of highest order
to our customers.
Quality Control Laboratory of ARL has been awarded ISO/IEC 17025:2005 Accreditation by the Pakistan National Accreditation Council (PNAC), Ministry of Science and Technology, Government of Pakistan on October 4, 2007, thereby becoming the first and the only laboratory in the oil & gas sector of Pakistan to achieve this distinction.
ISO/IEC 17025:2005 Laboratory Accreditation is the criteria for laboratories to demonstrate the technical competence to carry out specific test methods, generate valid internationally traceable calibration data, test results, and operate an effective quality system. This accreditation, thus, gives ARL's Laboratory an international standing equivalent to any of the international laboratories of repute.
We provide the following Laboratory Services: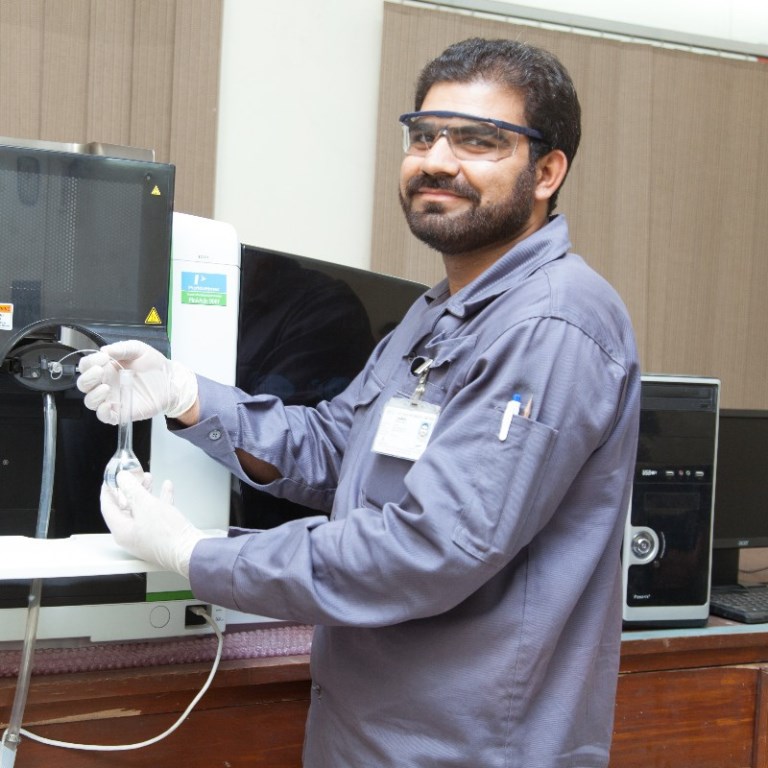 S/NO
Test
Method
1
Asphaltenes
IP 143
2
Acid Number
ASTM D3242 / D664
3
API Gravity
ASTM D287
4
Appearance
Visual
5
Aromatics
ASTM D1319
6
Cetane Index
ASTM D976
7
Color, ASTM
ASTM D1500
8
Color, Saybolt
ASTM D156
9
Copper Corrosion
ASTM D130
10
Cloud Point
ASTM D2500
11
Distillation
ASTM D86/D7345
12
Doctor Test
ASTM D4952
13
Ductility @ 25°C
ASTM D113
14
Electrical Conductivity
ASTM D2624
15
Existent Gum
ASTM D381
16
Flash Point, Abel
IP 170 / ASTM D56
17
Flash Point, COC
ASTM D92
18
Flash Point, PMCC
ASTM D93
19
Freezing Point
ASTM D2386
20
Heat of Combustion
ASTM D240
21
Hydrogen Content
ASTM D3343
22
Iron in Water
UOP 314
23
Kinematic Viscosity at Different Temperatures
ASTM D445 / D7042
24
Loss on Heating
ASTM D6
25
Olefins
ASTM D1319
26
Microseparometer Rating

ASTM D3948/ASTM 7224

27
Mercaptan Sulfur
ASTM D3227
28

Lead Contents, g/Litre

 ASTM D3237

29
Particulate Contamination
ASTM D5452
30
Penetration @ 25°C
ASTM D5
31
pH of Water
ASTM D1293 / USEPA 150.1
32
Pour Point
ASTM D97
33

Residues in Liquefied Petroleum (LP) Gases

ASTM D2158

34
RVP @ 37.8°C
ASTM D323
35
Salts in Crude Oil
ASTM D3230 
36
Smoke Point
ASTM D1322
37
Solubility in Trichloroethylene
ASTM D2042 
38
Specific Energy Net
ASTM D3338
39
Specific Gravity 60/60°F
ASTM D1298
40
Sulfur Content
ASTM D4294 / D5453 / UOP 987
41
Temperature at 95% Evaporation
ASTM D1837
42
Thermal Stability by JFTOT
ASTM D3241
43
True Boiling Point
ASTM D2892
44
Total Chloride in Petroleum Distillates by Colorimetry
UOP 395
45
Bromine Number and Bromine Index of hydrocarbons by Potentiometric method
UOP 304
46
PONA by GC
ASTM D5134 / UOP 551, 690
47
Gas Analysis by Gas Chromatography
UOP 539
48
Relative Density of Gas by Schilling Effusion Method
UOP 114
49
H2S, H2O, HCL, in gases Detector
Detector Tubes
50
Water Content
ASTM D95
51
Water in Liquid Hydrocarbons
ASTM D6304
52
Water Reaction of Aviation Fuels
ASTM D1094
53
Water and Sediments in fuel oil by Centifuge method
ASTM D1796
54
Water and Sediments in Crude oil by Centifuge method
ASTM D4007
55
Research Octane Number
ASTM D2699
56
Chloride in Water
T01-IHTM002
57

Sulfide in Water

USEPA 376.1/ UOP 683

58
Insolubles in Sodium Chloride
T01-IHTM004
59
Softening Point
ASTM D36 
60

Biochemical oxygen demand

USEPA 405.1

61
Chemical Oxygen Demand
USEPA 410.0
62

Total Petroleum Hydrocarbons (TPH) in Water and
Wastewater with Solvent Extraction

ASTM D 7678/ USEPA 1664

63
Phenols in Water
USEPA 420.1
64
Total Dissolved Solids (TDS)
USEPA 160.1
65
Total Suspended Solids (TSS)
USEPA 160.2
66

Particulate, ISO Code and Individual channel count

IP 564/ IP 565

67
Sediments
ASTM D473
68
Ash Content
ASTM D482
69
Cold Filter Plugging Point
IP 309
70
Conradson Carbon
ASTM D189
71
Naphthalenes
ASTM D1840
72
Hydrogen Sulfide, Mercaptan Sulfur, and Carbonyl Sulfide in Hydrocarbon Gases by Potentiometric Titration
UOP 212
73
Freezing Point
ASTM D2386
74
Trace Metals in Petroleum Products by AAS
UOP 391
75
Manganese Content, mg/L
ASTM D3831